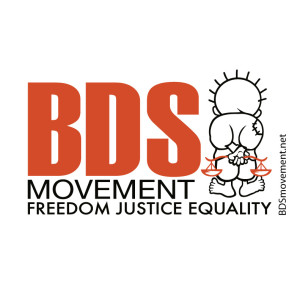 Stop the criminalisation of the BDS movement for justice in Palestine
Support grassroots human rights activists across Europe!
As Israel is increasingly unable to defend its regime of apartheid and settler colonialism over the Palestinian people and its regular massacres of Palestinians in Gaza, it is seeking supportive governments in Europe and the US to undermine free speech as a way of shielding it from criticism and measures aimed at holding it to account for its gross violations of international law. There is a very coordinated and well-financed campaign led by Israel and its supporters aiming to criminalise political activism against Israeli occupation, based on the particular fear that the worldwide Palestinian-led campaign of Boycott, Divestment and Sanctions (BDS) is succeeding.
At the moment, one of the most significant attacks on the movement is taking place in France. On Sunday the 6th of March, in Paris, a woman demonstrating to defend the rights of women was arrested and held for several hours in a police station. Her crime? Wearing a t-shirt on which was written "Boycott Israel Apartheid – Justice in Palestine". BDS activists throughout the country face legal retaliation, based on the outrageous so-called "Alliot-Marie Circular", according to which calling for the boycott of Israeli goods is a form of "racial hatred". Organisations in France have put together petitions1 contesting this attack on the movement.
On the other side of the Channel, the British government is implementing a new set of rules that will make it harder for local councils and other public bodies including universities to make ethical procurement or investment decisions. Prime Minister David Cameron does not even try to conceal the truth and made very clear that these changes are designed to counter the growing BDS movement. Indeed, his Secretary of State for Justice, Michael Gove, has stated that the BDS movement is committing "a crime worse than apartheid".
All over Europe, non-violent grassroots human rights activists are under threat.
In addition Israeli Intelligence Minister Yisrael Katz said at a large Israeli anti-BDS conference, held on March 28 in Jerusalem, that Israel should engage in "targeted civil eliminations" of BDS « leaders » with the help of Israeli intelligence. That was at the very same conference at which EU Ambassador to Israel was participating alongside settler leaders. It is seriously alarming when government ministers anywhere make such threats against human rights defenders and members of the public.